Identifying the challenges of 6 months telerehabilitation programme on non COVID patients during COVID -19 through patients' perception
Abstract
Abstract
Background: The effect of  Covid-19  on medical care for conditions other than Covid-19 has been difficult to quantify.1 Any decrease in care for patients with stroke may be consequential because timely treatment may decrease the disability. Methodology: A qualitative type of study was conducted on 15participants. Old neuro patients, participants who were willing to participate & performing ADL's with difficulty or minimal assistance were included & new patients, participants with  neurological abnormalities were excluded.
Result: A total 15 participants with neurological dysfunction were included in the study. The mean duration of symptoms was 2.83±2.35 in years. 80% patients were like the concept of telerehabilitation & 100% patients were satisfied from the telerehabilitation session.
Conclusion: Patients were generally satisfied of telerehabilitation programme during COVID.  But showed less interest after number of sessions and difficult to take follow up of telerehabilitation for long term.
Key Words: Perception, Telerehabilitation, Physiotherapy, Exercises etc.
Keywords:
Perception, Telerehabilitation, Physiotherapy, Exercises etc.
References
M Mehrpour, A Shuaib, M Farahani et al (2020), Coronavirus disease 2019 and strokein Iran: a case series and effects on stroke admissions. Int. Journal of Stroke;0(0)1-6.
Shalini A, Amukotuwa, Roland Bammer, Julian Maingard(2020), Where have our patients gone? The impact of COVID?19 on stroke imaging and intervention at an Australian stroke centre. Journal of medical imaging and radiation onchology; 1754-9485.13093.
Anthony C Smith, Emma Thomas, Centaine L Snoswell et al.(2020), Telehealth for global emergencies:Implications for coronavirus disease 2019(COVID-19); Journal of Telemedicine and Telecare, Vol. 26(5) 309–313.
Garcia S, Albaghdadi MS, Meraj PM, et al(2020), Reduction in ST-segment elevation cardiac catheterization laboratory activations in the United States during COVID-19 pandemic. J Am Coll Car-diol 2020 April 9
Goyal M, Menon BK, van Zwam WH, et al. Endovascular thrombectomy after large-vessel ischaemic stroke: a meta-analy-sis of individual patient data from five randomised trials. Lancet 2016; 387: 1723-31.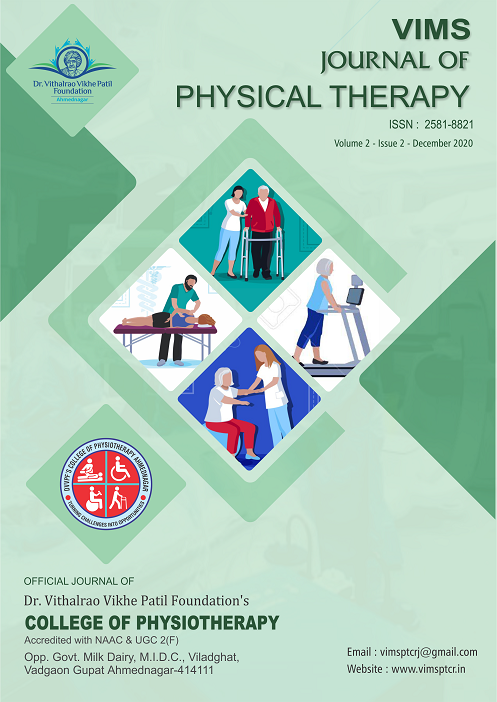 How to Cite
harishchandre, M. ., & Ganvir, S. (2021). Identifying the challenges of 6 months telerehabilitation programme on non COVID patients during COVID -19 through patients' perception. VIMS JOURNAL OF PHYSICAL THERAPY, 2(2), 85-91. https://doi.org/10.46858.VIMSJPT.2206
License
Copyright (c) 2020 Maheshwari harishchandre, Dr.Suvarna Ganvir Ganvir
This work is licensed under a Creative Commons Attribution-NonCommercial-ShareAlike 4.0 International License.