PREVALENCE OF IMPAIRED LUNG FUNCTION AND QUALITY OF LIFE IN FLOUR MILL WORKERS IN AHMEDNAGAR CITY: AN OBSERVATIONAL STUDY
IMPAIRED LUNG FUNCTION AND QUALITY OF LIFE IN FLOUR MILL WORKERS
Keywords:
Flour mill workers, Respiratory problems, PEFR, St. George Questionnaire.
Abstract
Background:  A major problem in developing countries is indoor air pollution and in India a major problem is the lack of awareness. A study says that flour mill workers, on average are exposed to such an environment for 8-10 hrs. a day. This prolongs exposure to flour mill dust and poor ventilation leads to respiratory complications. St. George's respiratory questionnaire is one of the reliable methods to quantify health status in patients with chronic airflow limitation and also, peak expiratory flow rate (PEFR) has been proven to be a useful tool in assessing airway obstruction9 which is common in flour mill workers. Procedure: The 50 flour mill workers was selected for study according to the inclusion and exclusion criteria. The PEFR values and St. George Questionnaire was taken and the domains affected were seen. Result: The prevalence of respiratory problems in flour mill workers was 71%. Conclusion: There is a higher prevalence of respiratory problems in flour mill workers due to prolonged exposure to flour mill dust and poor ventilation.
References
AgataStobnicka and Rafal L. Gorny. Exposure to flour dust in the occupational environment. International Journal of Occupational Safety and Ergonomics. 2015 July; 21(3): 241-249.
Nilesh D. Wagh, Bhushan G. Pachpande, Vijay S. Patel, Sanjay B. Attarde and Sopan T. Ingle. The influence of the workplace environment on lung function of flour mill workers in Jalgaon Urban Center. J Ocup Health. 2006;48: 396-401.
Cotes JE. Lung Function-Assessment and Application in Medicine. Br J Ind Med. 1970 January;27(1):88.
Williams MH Jr. The pulmonary function laboratory. Who needs it? Chest Journal. 1986;89:769-780.
Taggart SC. Asthmatic bronchial hyper responsiveness varies with ambient levels of summertime air pollution. EurRespir J. 1996;9:1146-1154.
Stone V. Environmental air pollution. Am J Crit Care Med. 2000;162:S44-S47.
Bae YJ, Kim YS, Park CS, Lee YS, Chang YS, Cho YS et al. Reliability and validity of the St George's Respiratory Questionnaire for asthama. The International Journal of Tuberculosis and Lung Disease. 2011 July; 15(7):966-971.
Amber L. Martin, Jessica Marvel, Kyle Fahrbach, Sarah M. Cadarette, Teresa K. Wilcox, James F. Donohue. The association of lung function and St. George's respiratory questionnaire with exacerbations in COPD: a systemic literature review and regression analysis. Respiratory Research. 2016;17: 1-15.
Jennifer Y., Alejandra C. Lastra, HuaqingAhao, Nathaniel Marchhetti, Gerand J. Criner. Daily Peak Expiratory Flow Rate and Disease Instability in Chronic Obstructive Pulmonary Disease. Journal of COPD foundation. 2015;3(1):398-405.
C. Gimenez, K. Fouad, D. Choudat, J. Laureillard, P. Bouscaillou, E. Leib, Chronic and acute respiratory effects among grain mill workers, Int. Arch. Occup. Environ. Health.1995;67(5):311–315.
A.B. Bohadana, N. Massin, P. Wild, M.N. Kolopp, J.P. Toamain, Respiratory symptoms and airway responsiveness in apparently healthy workers exposed to flour dust, Eur. Respir. J. 1994;6:1070–1076.
A.H. Ahmed, I.E. Bilal, T.H. Merghani, Effect of exposure to flour dust on respiratory symptoms and lung function of bakery workers: a case control study, Sudanese J. Pub. Health.2009;4(1):210–213.
D. Talini, A. Benvenuti, M. Carrara, E. Vaghetti, L.B. Martin, P.L. Paggiaro, Diagnosis of flour-induced occupational asthma in a cross-sectional study, Respir. Med. 2002;96(4):236–243.
J. Minov, J. Karadzinska-Bislimovska, K. Vasilevska, S. Risteska-Kuc, S. Stoleski, Bronchial hyperresponsiveness in workers exposed to organic dusts: effect of smoking, Allergy Hypersensitivity Asthma.2006; 4 (1):11–20.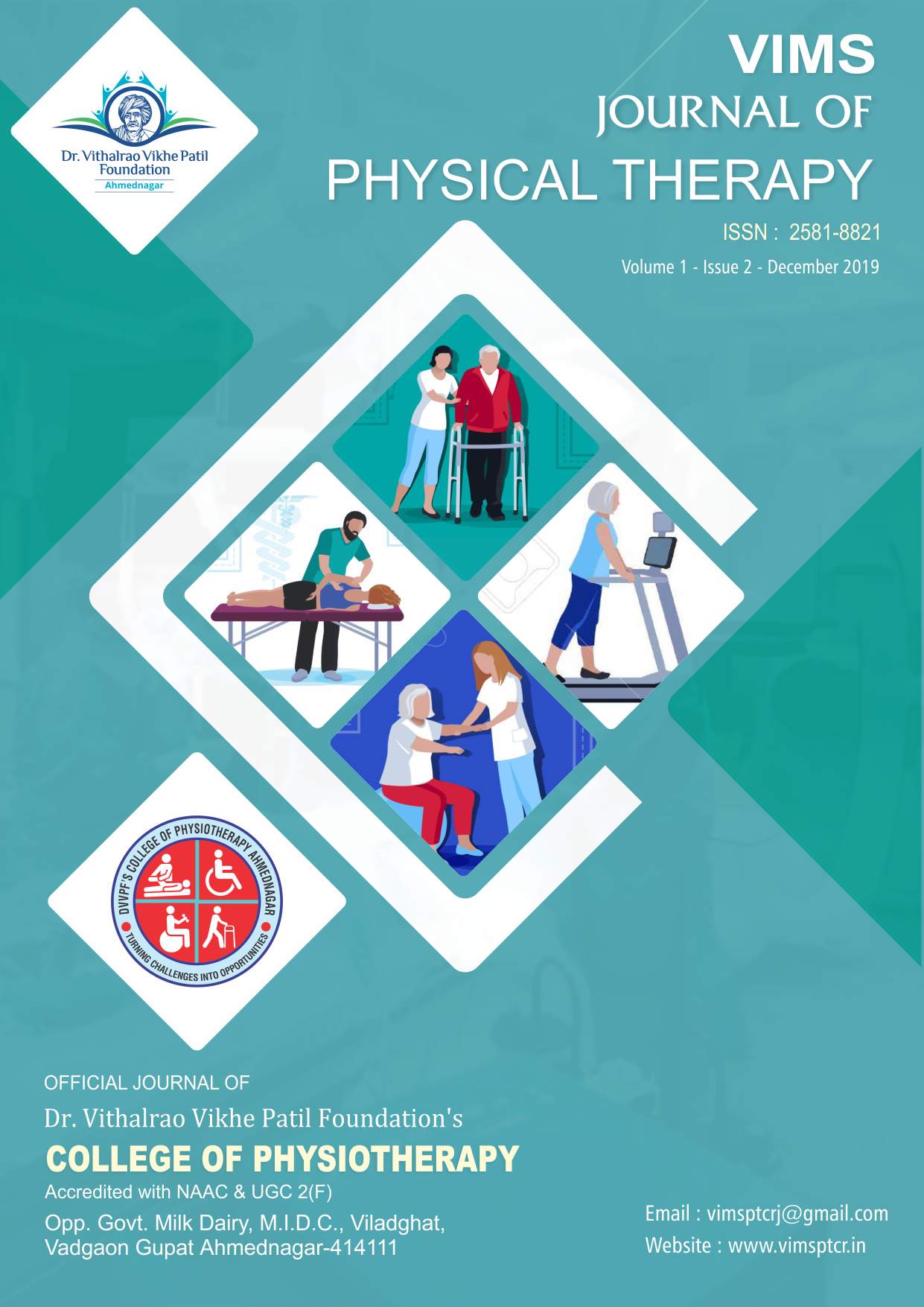 Downloads
How to Cite
Gurli, H. P. ., Diwate, A., Das, A., & Mahadik, A. (2019). PREVALENCE OF IMPAIRED LUNG FUNCTION AND QUALITY OF LIFE IN FLOUR MILL WORKERS IN AHMEDNAGAR CITY: AN OBSERVATIONAL STUDY: IMPAIRED LUNG FUNCTION AND QUALITY OF LIFE IN FLOUR MILL WORKERS. VIMS JOURNAL OF PHYSICAL THERAPY, 1(2), 91–93. Retrieved from https://vimsptcr.in/index.php/main/article/view/36
License
Copyright (c) 2019 Harshali P. Gurli, Abhijit Diwate, Arijit Das, Abhaya Mahadik
This work is licensed under a Creative Commons Attribution-NonCommercial-ShareAlike 4.0 International License.