INFLUENCE OF DIFFERENT BODY POSITIONS ON PULMONARY FUNCTIONS: A PILOT STUDY
BODY POSITIONS ON PULMONARY FUNCTIONS
Keywords:
Pulmonary Function Test, Normal individuals, Height, Age, Weight
Abstract
Background:  Pulmonary function is one of the most common practice parameters to know airway and lung health. Any abnormality or imbalance can directly change the pulmonary function.Even different body positioning can change pulmonary function. So in different positioning different physiological parameters are having a direct or indirect effect. Objective- The objective of the study was to find out the pulmonary function in supine, sitting and recline positions and compare the pulmonary function of these positions. Procedure- subjects performed  PFT 3 times in sitting, recline and supine positions. outcome measures used were FVC,FEV1,FEV1/FVC,FEF25-75% and PEFR. The result showed that sitting position shows better results than supine and recline position. Conclusion- five subjects shows better result in sitting position than supine and recline position.
References
Tsubaki ADeguchi S,Yoneda Y, the influence of posture on respiratory function J.Phys.Ther.Sci. 2009;21:71-74.
Vitacca M, Clini E, Spassini W, does supine position worsen respiratory function in elderly subjects? Gerontology. 1996;42: 46-53.
Vilke GM, Chan TC, Neuman T,: spirometry in normal subjects in sitting, supine, and prone positions. Respir Care. 2000;45: 407-410.
Badr C, Elkins MR,: the effect of body position on maximal expiratory pressure and flow. Aust J Physiother. 2002;48: 95-102.
Lathadevi. V .GanpathiVinoth S the estimation of pulmonary functions in various body postures in normal subjects. GanapathiLV .int J Adv Med. 2015 Aug;2(3): 250-254.
Dock W. 1944 : The evil sequelae of complete bed rest. Journal of American medical association. 125:1083- 1085.
Moreno, F. & Lyon, H.A.. Effect of body posture on lung volumes. Journal of applied physiology. 1961;16(1),27-29.
Powers JH, The abuse of rest as the therapeutic measure in surgery. JAMA. 1944;125:1079-1083.
Winslow EH. cardiovascular consequences of bed rest, heart lung. 1985;14:236-246.
Sasaki H, Hida W, Takishima T. Influence of body position on dynamic compliance in young subjects. Journal of Applied Physiology. 1977 May 1;42(5):706-10.
Roussos CS, Fukuchi YO, Macklem PT, Engel LA. Influence of diaphragmatic contraction on ventilation distribution in horizontal man. Journal of applied physiology. 1976 Mar 1;40(3):417-24.
Druz WS, Sharp JT. Electrical and mechanical activity of the diaphragm accompanying body position in severe chronic obstructive pulmonary disease. American Review of Respiratory Disease. 1982 Mar;125(3):275-80.
Don HF, Craig D, Wahba W, Couture J. The measurement of gas trapped in the lungs at functional residual capacity and the effects of posture. Anesthesiology. 1971 Dec;35(6):582-90.
Craig DB, Wahba WM, Don HF, Couture JG, Becklake MR. " Closing volume" and its relationship to gas exchange in seated and supine positions. Journal of Applied Physiology. 1971 Nov;31(5):717-21.
Behrakis PK, Baydur A, Jaeger MJ, Milic-Emili J. Lung mechanics in sitting and horizontal body positions. Chest. 1983 Apr 1;83(4):643-6.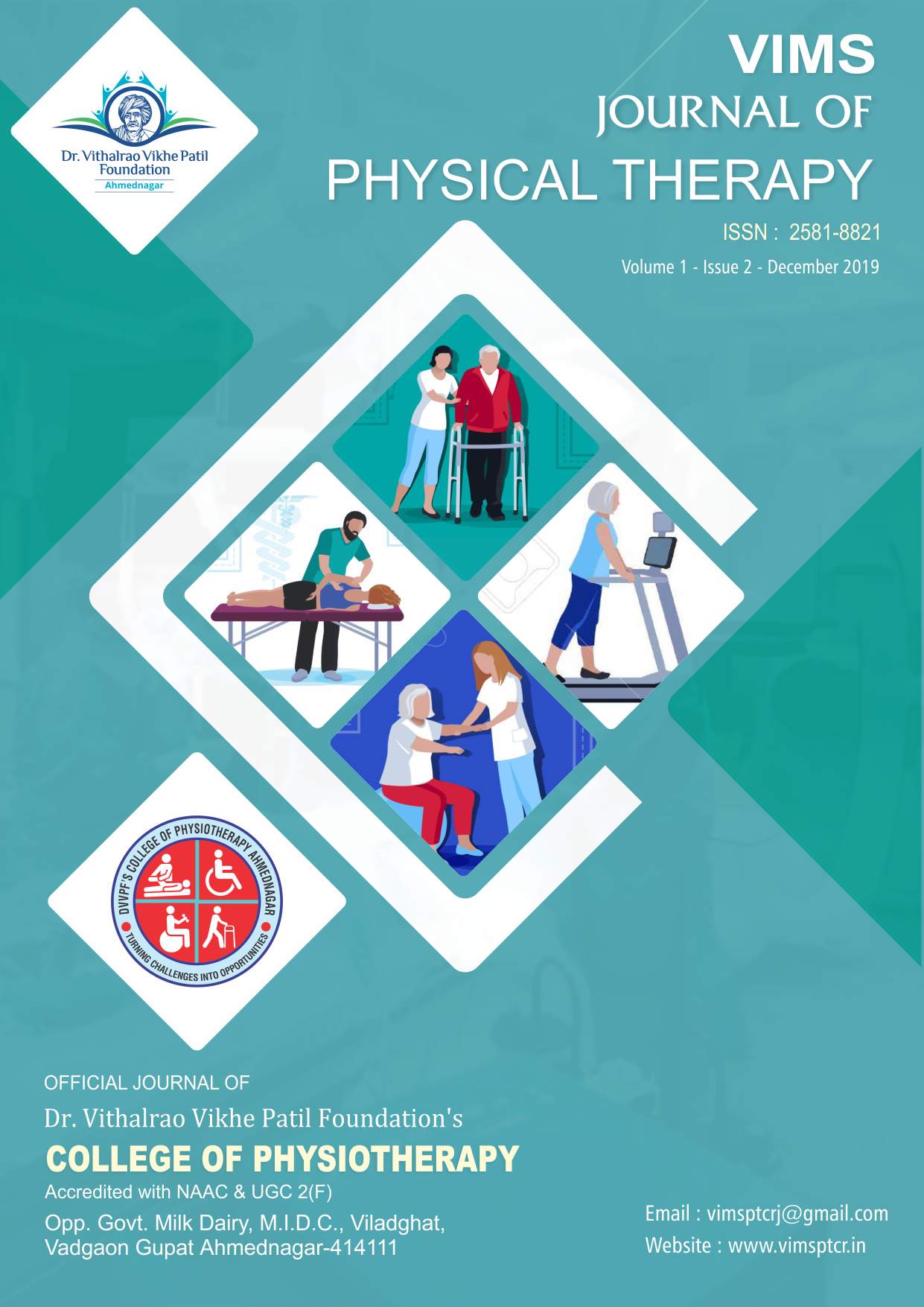 Downloads
How to Cite
Umale , R. ., Diwate, A., & Das, A. (2019). INFLUENCE OF DIFFERENT BODY POSITIONS ON PULMONARY FUNCTIONS: A PILOT STUDY: BODY POSITIONS ON PULMONARY FUNCTIONS. VIMS JOURNAL OF PHYSICAL THERAPY, 1(2), 106–110. Retrieved from https://vimsptcr.in/index.php/main/article/view/33
License
Copyright (c) 2019 Rucha Umale , Abhijit Diwate, Arijit Das
This work is licensed under a Creative Commons Attribution-NonCommercial-ShareAlike 4.0 International License.