Prevalence and associated risk factors of urinary incontinence among menopausal women living in rural area
Keywords:
premenopause, postmenopause, urinary incontinence, risk factors, quality of life
Abstract
Background: Urinary incontinence is social plus hygiene problem. It is one of the common symptoms attributable to hormonal changes during menopause which significantly affects quality of life of women. This study was aimed to estimate the prevalence, risk factors of urinary incontinence and its impact on everyday activities.
Method: This study was carried out in rural areas of Ahmednagar district. Two hundred women above 40 years of age were included. Incontinence was assessed using international consultation on incontinence questionnaire.
Results: Statistical analysis was done using spss, where the mean was 48.12±8.9 years, one hundred thirteen females were postmenopausal and eighty-seven were premenopausal.
Conclusion: A moderate prevalence of urinary incontinence among rural area. Multi parity, occupation, hysterectomy, comorbidities were identified risk factors for incontinence. Significant difference was found in occupation, comorbidities, parity and hysterectomy in studied population
References
Brijesh Kumar Agarwal, Namita Agarwal. Urinary incontinence: prevalence, risk factors, impact on quality of life and treatment seeking behavior among middle aged women. International Surgery Journal. 2017.4(6)
Yoshitaka Aoki et al. Urinary incontinence in women. Nature Reviews Disease Primers.2017.6(3):17042
Uma Singh, Pragati Agrawal. Prevalence and risk factors of urinary incontinence in Indian women: A hospital-based survey. Indian Journal of Urology.2013.29(1)
Aathira Kizhakkeveetil Ajith. Prevalence and Factors of Urinary Incontinence among Postmenopausal Women Attending the Obstetrics and Gynecology Outpatient Service in a Tertiary Health Care Center in Kochi, Kerala. Indian Journal of Community Medicine. 2019.44(1)
Zhou, Hai-Hong PhDa; Shu, Bo PhDa; Liu, Tong-Zu PhDb; Wang, Xing-Huan PhDb; Yang, Zhong-Hua PhDb; Guo, Yong-Lian PhDa,*. Association between parity and the risk for urinary incontinence in women: A meta-analysis of case–control and cohort studies. Medicine.2018;97(28):p e11443.
Kim Y, Kwak Y. Urinary incontinence in women in relation to occupational status. Women Health. 2017 Jan;57(1):1-18.
Brown JS, Vittinghoff E, Lin F, Nyberg LM, Kusek JW, Kanaya AM. Prevalence and risk factors for urinary incontinence in women with type 2 diabetes and impaired fasting glucose: findings from the National Health and Nutrition Examination Survey (NHANES) 2001-2002. Diabetes Care. 2006 Jun;29(6):1307-12
Skorupska, Katarzyna, Sara Wawrysiuk, Michal Bogusiewicz, Pawel Miot?a, Izabela Winkler, Agnieszka Kwiatkowska, and Tomasz Rechberger. "Impact of Hysterectomy on Quality of Life, Urinary Incontinence, Sexual Functions and Urethral Length" Journal of Clinical MedicineJ. Clin. Med. 2021, 10(16), 3608
Bohlin Katza S, Ankardal M, Lindkvist H, Milsom I. Factors influencing the incidence and remission of urinary incontinence after hysterectomy. Am J Obstet Gynecol. 2017 Jan;216(1):53.e1-53.e9.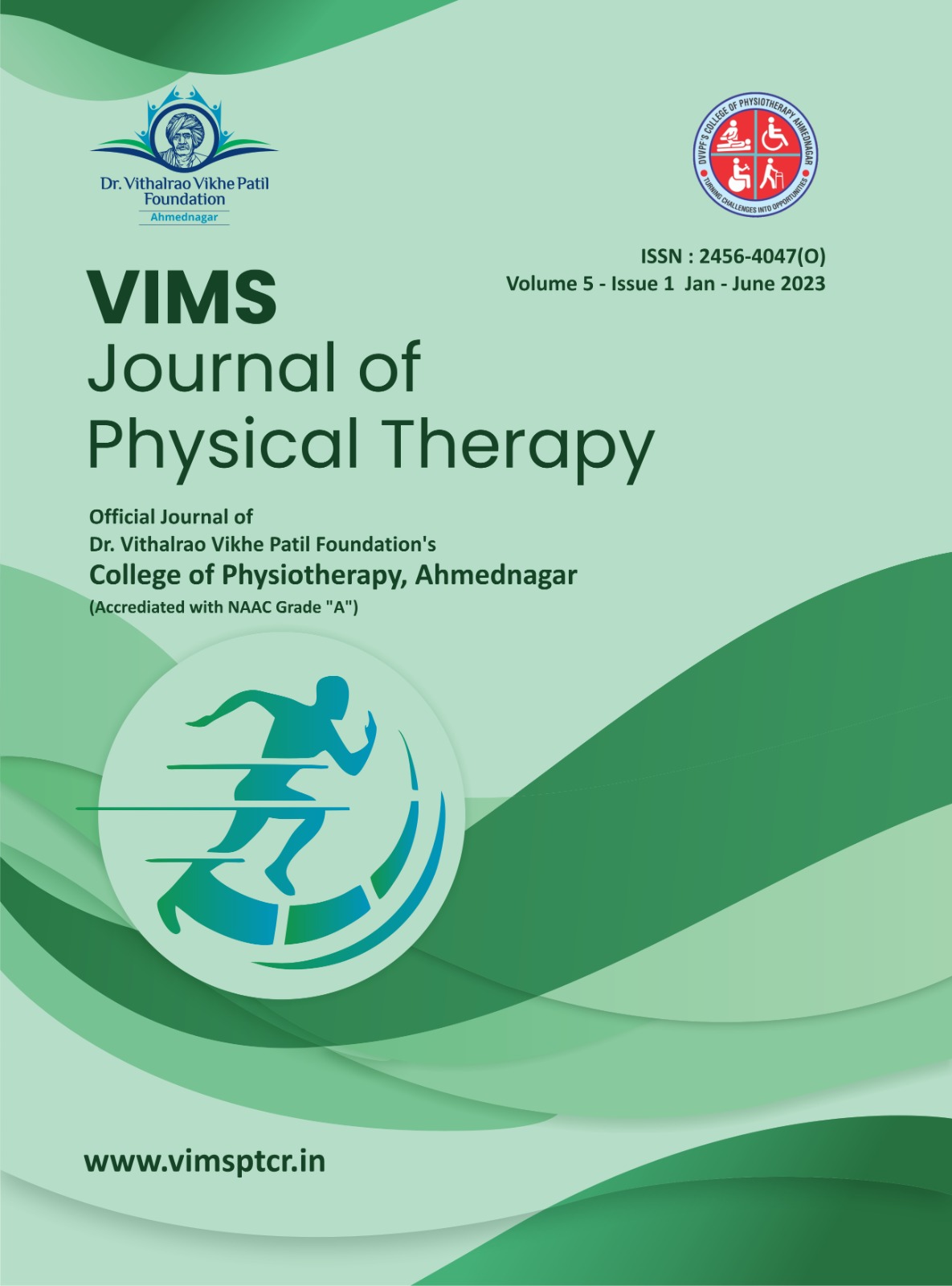 Downloads
How to Cite
Anushree, P., & Shyam (PhD), P. D. G. (2023). Prevalence and associated risk factors of urinary incontinence among menopausal women living in rural area. VIMS JOURNAL OF PHYSICAL THERAPY, 5(1), 8–11. https://doi.org/10.46858/VIMSJPT.5103
License
Copyright (c) 2023 Pawar Anushree, Prof. Dr. Ganvir Shyam (PhD)
This work is licensed under a Creative Commons Attribution-NonCommercial-ShareAlike 4.0 International License.