Effect of level of injury on disability and community reintegration among spinal cord injury community dwellers: A Pilot study
Abstract
Background:- Spinal cord injury (SCI) brings a huge number of changes in an individual's life. SCI patients experience a variety of physical and psychosocial challenges when they return to the community in spite of the massive efforts of rehabilitation. In patients with SCI, disability (impairments, activity limitations and participation restrictions) is very important for both patients and physicians. Hence this study aimed to see the effect of level of injury on disability among community dwelling spinal cord injury individuals. Methodology:- This study was carried out in tertiary care hospital Individuals with spinal cord injury were included according to the inclusion criteria. Disability and community integration were assessed by using Craig Handicap Assessment and Reporting Technique (CHART) and Reintegration to normal living index Result:- Statistical analysis was done using descriptive statistics of individuals. Conclusion:- Showed significant decline in CHART And RNL score in cervical level of spinal cord injury patients.
References
Kashif M, Jones S, Haider Darain HI, Raqib A, Butt AA. Factors influencing the community integration of patients following traumatic spinal cord injury: a systematic review. JPMA. 2019 Sep;69(1336).
Barclay L, Lentin P, Bourke?Taylor H, McDonald R. The experiences of social and community participation of people with non?traumatic spinal cord injury. Australian Occupational Therapy Journal. 2019 Feb;66(1):61-7.
Post MW, de Witte LP, van Asbeck FW, van Dijk AJ, Schrijvers AJ. Predictors of health status and life satisfaction in spinal cord injury. Archives of physical medicine and rehabilitation. 1998 Apr 1;79(4):395-401.
Karatas G, Metli N, Yalcin E, Gunduz RA, Karatas F, Akyuz M. The effects of the level of spinal cord injury on life satisfaction and disability. Ideggyogy Sz. 2020 Jan 30;73(1–2):27-34.
Bouman AI, Hemmen B, Evers SM, van de Meent H, Ambergen T, Vos PE, Brink PR, Seelen HA. Effects of an integrated 'fast Track'Rehabilitation Service for Multi-Trauma Patients: a non-randomized clinical trial in the Netherlands. PLoS One. 2017 Jan 11;12(1):e0170047.
Simpson LA, Eng JJ, Hsieh JT, Wolfe and the Spinal Cord Injury Rehabilitation Evidence (SCIRE) Research Team DL. The health and life priorities of individuals with spinal cord injury: a systematic review. Journal of neurotrauma. 2012 May 20;29(8):1548-55.
Arsh A, Darain H, Haq ZU, Zeb A, Ali I, Ilyas SM. Epidemiology of spinal cord injuries due to bomb blast attacks, managed at paraplegic centre peshawar, pakistan: a nine years retrospective study. Khyber Medical University Journal. 2017 Aug 16;9(2).
Polinder S, Meerding WJ, Mulder S, Petridou E, van Beeck E. Assessing the burden of injury in six European countries. Bulletin of the World health organization. 2007;85:27-34.
Ekechukwu, E.N.D., Nwokocha, C.O., Atuenyi, B.C., Ezeukwu, A.O. and Dada, O.O., 2022. Disability and Community Reintegration Among Community Dwelling Persons Living with Stroke, Spinal Cord Injury and Limb Amputation–A Comparative Study. In Proceedings of the 21st Congress of the International Ergonomics Association (IEA 2021) Volume V: Methods & Approaches 21 (pp. 487-494). Springer International Publishing.
Kendall MB, Ungerer G, Dorsett P. Bridging the gap: transitional rehabilitation services for people with spinal cord injury. Disability and Rehabilitation. 2003 Jan 1;25(17):1008-15.
Silver J, Ljungberg I, Libin A, Groah S. Barriers for individuals with spinal cord injury returning to the community: a preliminary classification. Disability and health journal. 2012 Jul 1;5(3):190-6.
Richardson A, Samaranayaka A, Sullivan M, Derrett S. Secondary health conditions and disability among people with spinal cord injury: A prospective cohort study. The journal of spinal cord medicine. 2021 Jan 2;44(1):19-28.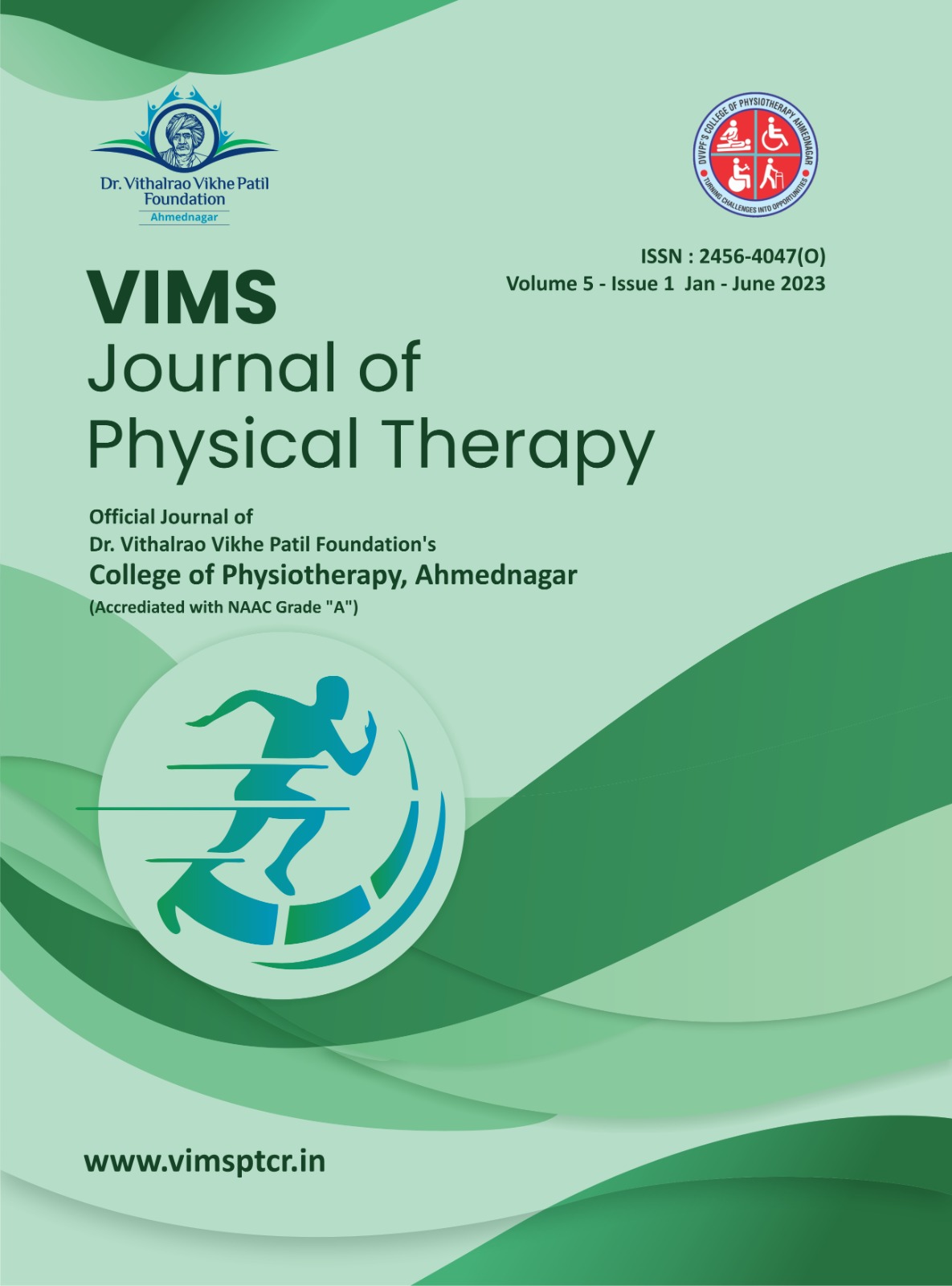 Downloads
How to Cite
Gayatri, K., & Shyam (PhD), P. D. G. (2023). Effect of level of injury on disability and community reintegration among spinal cord injury community dwellers: A Pilot study. VIMS JOURNAL OF PHYSICAL THERAPY, 5(1). https://doi.org/10.46858/VIMSJPT.5112
License
Copyright (c) 2023 Kalantri Gayatri, Prof Dr. Ganvir Shyam (PhD)
This work is licensed under a Creative Commons Attribution-NonCommercial-ShareAlike 4.0 International License.