EFFECT OF ACTIVE CYCLE OF BREATHING TECHNIQUE IN PATIENTS WITH PULMONARY CONDITIONS- LITERATURE REVIEW
Effect of ACBT in Pulmonary conditions
Keywords:
Active Cycle of Breathing Technique, Sputum production, Forced Expiratory Technique, Functional capacity, Quality of life.
Abstract
Background: Active cycle of breathing technique is an airway clearance method that uses a cycle of techniques to loosen airway secretions, which includes breathing control, thoracic expansion exercises and forced expiration technique. The ACBT focus on normalizing the respiratory pattern, promoting airway clearance and reducing work of
breathing. Along with this, it also helps in improving the Quality of life, reducing breathlessness and in turn improves the functional capacity of the individual. Therefore the main aim of this study was to find out the effect of ACBT in patients suffering from pulmonary conditions. Materials and Methods: Literature review were looked for at PEDRO,
where ACBT was used as an intervention technique for the experimental group. Out of the total articles searched in PEDRO which showed ACBT as an intervention along with other techniques not under the control group, the statistical analysis was done which showed ACBT to be an effective intervention in various pulmonary conditions like Asthma, COPD, Bronchiectasis — thereby allowing us to comment on whether ACBT is effective or not as a treatment protocol. Results: Out of 9 articles searched in PeDro where ACBT was used as a treatment protocol in one group; it showed that eight articles proved the ACBT treatment to be effective and 1 article showed that ACBT is not that effective as a treatment protocol Conclusion: Thus this systematic review concludes that ACBT is an effective treatment protocol as eight reviewed articles out of 9 prove its effectiveness along with mentioning that it also helps in improving Quality of life and functional capacity by reducing the level of breathlessness.
References
AbdelHalim.H.A, AboElNaga.H.H,Fathy.K.A:Comparison between active cycles of breathing with postural drainage versus conventional chest physiotherapy in subjects with bronchiectasis:Egyptian Journal of Chest Diseases and Tuberculosis .2016;65:157–165.
Pryor.J.A , Tannenbaum.E , Scott.S.F , Burgess.J , Cramer.D , K. Gyi , Hodson.M.E:Beyond postural drainage and percussion Airway clearance in people with cystic fibrosis. J Cyst Fibros. 2010 May;9(3):187-92 .
Sundus S1, Memoona S1, Muhammad IN2, Rashid HN3: Effect of Active Cycle of Breathing Technique in Adult Asthmatic Patients in Pakistan.Asian Journal of Medicine and Biomedicine.2017;1(1):32-36.
Richa, Aggarwal.R., Shaphe.M.A, George.C, Vats.A:A comparison of flutter device and active cycle of breathing techniques in acute exacerbation of chronic obstructive pulmonary disease patients.Indian Journal of Physiotherapy & Occupational Therapy.2010;4(3):60-64
Monisha R1 and TS Muthukumar. Efficacy of Active Cycle of Breathing Technique on Functional Improvement in Post CABG Patient. Res Med Eng Sci;2018 :5(1)
Meam.G.R,Zakaria.A.R;Buragadda.S;Sharma.D,Alghamd i.M.A.Comparison of Autogenic Drainage & Active Cycle Breathing Techniques on FEV1, FVC & PEFR in Chronic Obstructive Pulmonary Disease. World Applied Sciences Journal. 2012;20(6): 818-822.
Puneeth.B, Mohamed F.C, Devi.R, Ajith S4. Efficacy of Active Cycle of Breathing Technique and postural drainage in patients with bronchiectasis. Innovative Journal of Medical and Health Science. 2012;129 – 132.
Ü zmezog lu.B , Alt?ay.G , O zdemir.L , Tuna.H , Su t5.N:The Efficacy of Flutter® and Active Cycle of Breathing Techniques in Patients with Bronchiectasis: A Prospective, Randomized, Comparative Study. Turk
Thorac J .2018;19(3):103-9.
Jain.K , Mistry.K .Comparative study on effects of Active Cycle of Breathing Technique and Manual Chest Physiotherapy after uncomplicated CABG.J.Mahamta Gandhi Ünvi Med Sci Tech. 2017;2(2):65-68.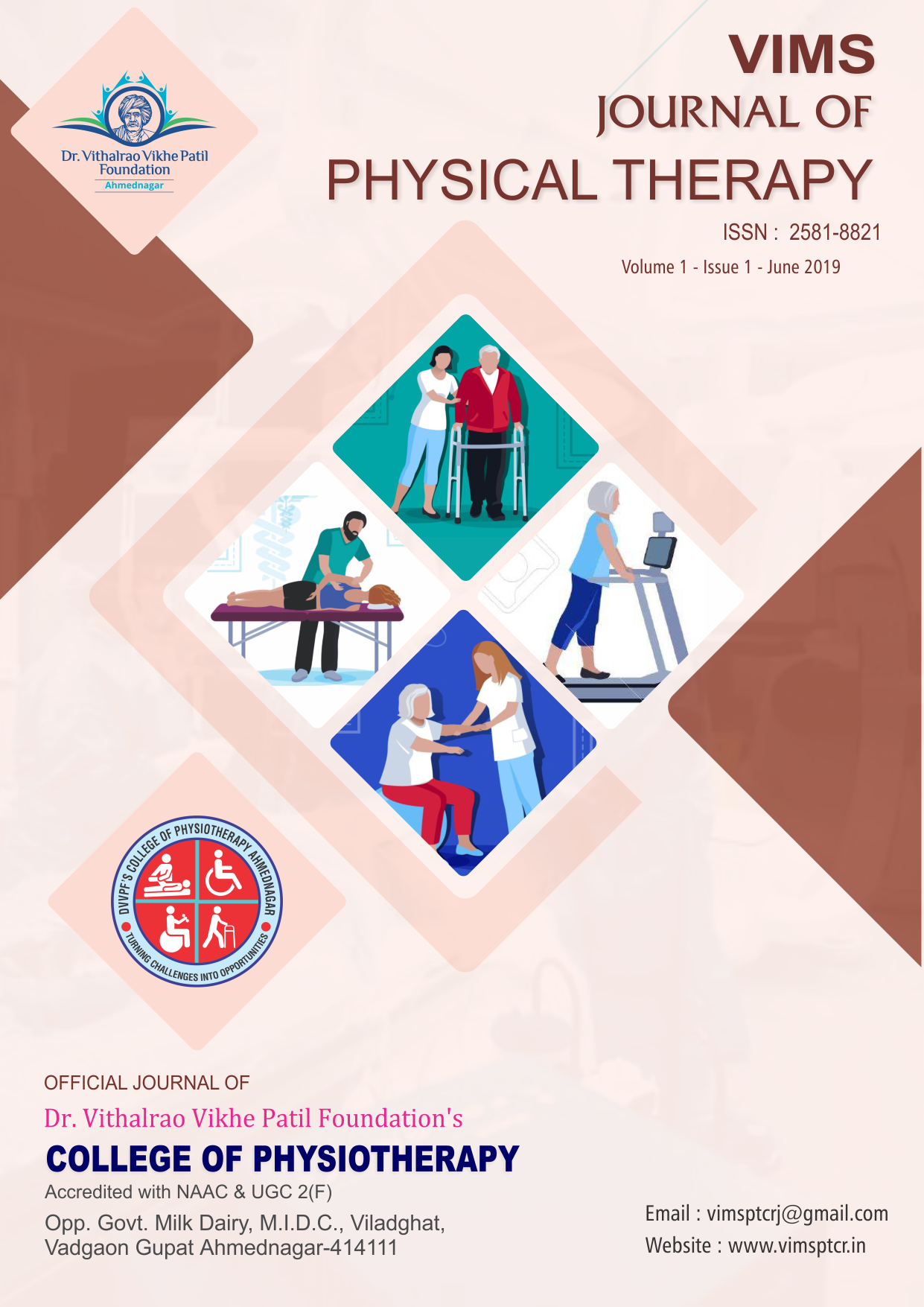 Downloads
How to Cite
Thorat, Y. ., Das, D. A. ., & Diwate , D. A. . (2020). EFFECT OF ACTIVE CYCLE OF BREATHING TECHNIQUE IN PATIENTS WITH PULMONARY CONDITIONS- LITERATURE REVIEW: Effect of ACBT in Pulmonary conditions. VIMS JOURNAL OF PHYSICAL THERAPY, 1(1), 43–48. Retrieved from https://vimsptcr.in/index.php/main/article/view/48
License
Copyright (c) 2020 Yashashree Thorat, Dr Arijit Das, Dr Abhijit Diwate
This work is licensed under a Creative Commons Attribution-NonCommercial-ShareAlike 4.0 International License.