PREVALENCE OF DYSMENORRHEA IN STUDENTS OF NURSING SCHOOL
DYSMENORRHEA IN STUDENTS OF NURSING SCHOOL
Keywords:
dysmenorrhea , nurses , prevalence , attitude
Abstract
Objectives: The altered working module and lifestyle make nurses at high risk of dysmenorrhoea while working with patients. The study objectives were to: (1) describe the demographic and menstruation characteristics of dysmenorrhoea, assess their dysmenorrheic pain severity and menstrual attitudes towards menstruation among dysmenorrhoeal and non- dysmenorrhoeal hospital nurses; (2) identify significant differences between the groups; and (3) examine factors influencing dysmenorrhoea.
Methods: This cross-sectional survey used a structured questionnaire, administered at Nurses School and centre of   TNMC and B.Y.L. Nair Hospital, Mumbai, India. Participants included nurses from 18 to 25 years of age who agreed to participate. All participants were recruited through convenience sampling. The questionnaire included demographic data, the Visual Analogue Scale (VAS) and Menstrual Attitude Questionaire (MAQ). Results: A total of 150 nurses completed the questionnaire. Among them, 106 (71%) had experienced dysmenorrhoea in the past 6 months and 44 (29%) had not. Significant differences in age of menarche (P=0.0248), the experience of dysmenorrhea (P= <0.0001), prior doctor visit for dysmenorrhea (P= 0.0002) , and rotating three-shift ratio (P=0.0154) were identified between the dysmenorrhoea and non-dysmenorrhoea groups. Analysis of the MAS results revealed significant differences between the groups regarding consideration of menstruation as a debilitating (P=0.0069), bothersome event (P=0.0463), menstruation as the natural event (P<0.0001), and denial of any effects from menstruation (P=0.0073). Analysis of the VAS results revealed significant differences between the groups (P<0.0001). 2350 (corrected for ties) and linear regression analysis Correlation coefficient (r) = - 0.2609.
Conclusion : These findings could help nurses to create a caring and friendly work environment  along with treatment protocol for their efficient functioning in hospitals who are at risk of dysmenorrhoea.
References
Chiu MH, Hsieh HF, Yang YH, Chen HM, Hsu SC, Wang HH. Influencing factors of dysmenorrhoea among hospital nurses: a questionnaire survey in Taiwan. BMJ open. 2017 Dec 1;7(12):e017615.
Chiou MH, Wang HH. Predictors of dysmenorrhea and self-care behavior among vocational nursing school female students. Journal of Nursing Research. 2008 Mar 1;16(1):17-25.
Bargiota S, Bonotis K, Garyfallos G, Messinis I, Angelopoulos N. The Psychometric Properties of Menstrual Attitudes Questionnaire: A validity Study in Greek Women. International Journal of Innovative Research in Science, Engineering and Technology. 2016;5(2):1754-65.
Unsal A, Ayranci U, Tozun M, Arslan G, Calik E. Prevalence of dysmenorrhea and its effect on quality of life among a group of female university students. Upsala journal of medical sciences. 2010 May 1;115(2):138-45.
Coco AS. Primary dysmenorrhea. American family physician. 1999 Aug;60(2):489-96.
Cady RK, Diamond ML, Diamond MP, et al. Sumatriptan-naproxen sodium for menstrual migraine and dysmenorrhea: satisfaction, productivity, and functional disability outcomes. Headache 2011;51:664–73.
Taniguchi F, Ota I, Iba Y, Toda T, Tagashira Y, Ohata Y, Kurioka H, Endo Y, Sunada H, Noma H, Azuma Y. The efficacy and safety of dydrogesterone for treatment of dysmenorrhea: An open?label multicenter clinical study. Journal of Obstetrics and Gynaecology Research. 2019 Jan;45(1):168-75.
Loto OM, Adewumi TA, Adewuya AO. Prevalence and correlates of dysmenorrhea among Nigerian college women. Aust N Z J Obstet Gynaecol. 2008;48:442–4.
Perry M. Treatment options for dysmenorrhoea. Practice Nurs 2012;23:195–8.
Ju H, Jones M, Mishra GD. Smoking and trajectories of dysmenorrhoea among young Australian women. Tob Control 2016;25:195–202.
Chung FF, Yao CC, Wan GH. The associations between menstrual function and life style/working conditions among nurses in Taiwan. J Occup Health 2005;47:149–56
Palmer D. "To help a million sick, you must kill a few nurses": nurses' occupational health, 1890-1914. Nurs Hist Rev 2012;20:14–45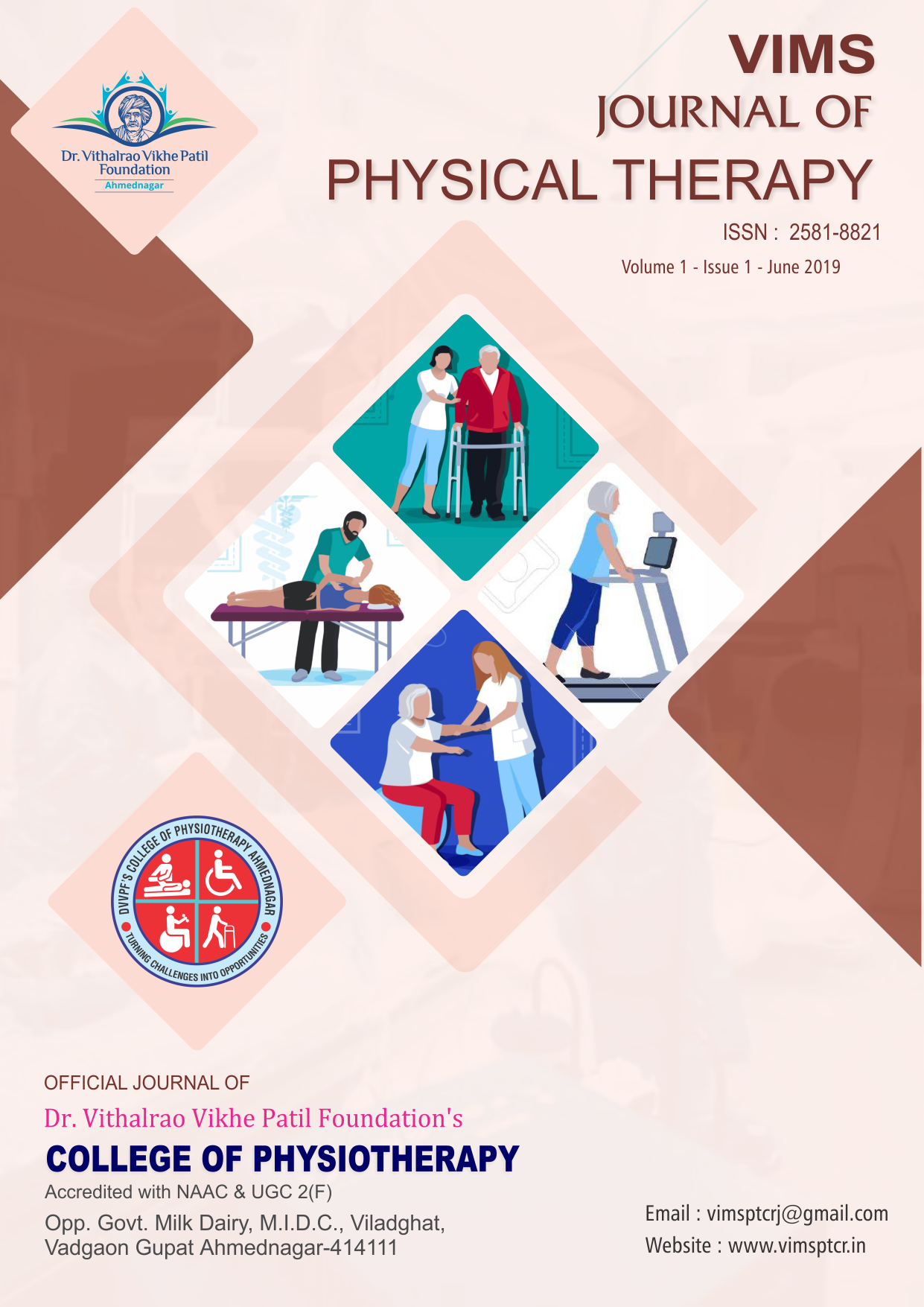 Downloads
How to Cite
POTDAR , D. ., & ASGAONKAR, B. . (2020). PREVALENCE OF DYSMENORRHEA IN STUDENTS OF NURSING SCHOOL: DYSMENORRHEA IN STUDENTS OF NURSING SCHOOL. VIMS JOURNAL OF PHYSICAL THERAPY, 1(1), 23–31. Retrieved from https://vimsptcr.in/index.php/main/article/view/47
License
Copyright (c) 2020 DIVYA POTDAR , BHARATI ASGAONKAR
This work is licensed under a Creative Commons Attribution-NonCommercial-ShareAlike 4.0 International License.