IMMEDIATE EFFECT OF INSTRUMENT ASSISTED SOFT TISSUE MOBILIZATION ON HAMSTRING MUSCLE EXTENSIBILITY – PRE AND POST TEST DESIGN
Immediate effect of instrument assisted muscle release technique on hamstring extensibility
Keywords:
Hamstring muscle tightness, Instrument Assisted Soft Tissue Mobilization, Range of motion, Active Knee Extension Test.
Abstract
Background: Hamstring is a group of muscles at the posterior aspect of the thigh which is more prone to strain or tearing. Instrument Assisted Soft Tissue Mobilization (IASTM) is a new range of tool used for assessment and treatment of muscle tightness. Objective was to find out the effect of Instrument Assisted Soft Tissue Mobilization (IASTM) on increasing Hamstring muscle extensibility in terms of knee extension range of motion. Materials and Methods: 30 participants were selected using purposive sampling and assessed for hamstring tightness and pre-test ROM was measured using the AKE test. Then they were given hot pack for 5-10mins, after that IASTM was administered using edge tool, for 1min. The post-release subject was engaged in light active exercise and then post-test ROM was measured and the difference was noted. Results: There was a significant difference in the AKE test pre and post value when
compared with the paired t-test. (p-value < 0.0001). Conclusion: Edge tool used for Instrument Assisted Soft Tissue Mobilization is useful to increase Hamstring Muscle Extensibility.
References
Lambert M, Hitchcock R, Lavallee K, Hayford E, Morazzini R, Wallace A, Conroy D, Cleland J. The effects of instrument-assisted soft tissue mobilization compared to other interventions on pain and function: a systematic review. Physical Therapy Reviews. 2017 Mar 4;22 (1-2):76-85.
Baker RT, Hansberger BL, Warren L, et al. A novel approach for the reversal of chronic apparent hamstring tightness: a case report. Int J Sports Phys Ther. 2015;10(5):723-733. 2.
Baker RT, Nasypany A, Seegmiller JG, et al. Instrumentassisted soft tissue mobilization treatment for tissue extensibility dysfunction. Int J Athl Ther Training.
;18(5):16-21.
Ge W, Pickar J: Change of paraspinal muscle spindle resting discharge evoked by mechanical vibration. Conf. Proc. Annu. Int. Conf. IEEE Eng. Med. Biol. Soc.
IEEE Eng. Med. Biol. Soc. Conf.2005, 5: 5002–5005.
Magee.D.Orthopaedic physical assessment 6th Edition.
Carey M, Hammer W. Graston Technique instruction manual. 2001
Terry loghmani M ,Bayliss AJ ,Calton G,Gundeck E.Successful treatment of a guitarist with a fingr joint injury using instrument assited soft tissue mobilizatiin:a case report.Journal of Manula & Manipulative Therapy.2015 Oct 20;23(5):246-53
Motimath B. Immediate effect of instrument assisted soft tissue mobilization (Iastm) With M2T blade technique in trapezitis: An experimental study. IJAR.
;3(5):527-9.
Gehlsen GM. Ganion LR, Helfst RH. Fibroblast responses to variation in soft tissue mobilization pressure. Med Sei Sports Exerc. 1999;3U4):531- 535. 22.
Loghmani MT, Warden SJ. Instrument-Assisted crossfiber massage accelerates knee ligament healing. J Orthop Sports Phys Ther. 2009;39(7):506-514.
Marshall PW, Siegler JC. Lower hamstring extensibility in men compared to women is explained by differences in stretch tolerance. BMC musculoskeletal disorders.
Dec;15(1):223.
Croix MB, ElNagar YO, Iga J, James D, Ayala F. Electromechanical delay of the hamstrings during eccentric muscle actions in males and females: Implications for
non-contact ACL injuries. Journal of Electromyography and Kinesiology. 2015 Dec 1;25(6):901-6.
Blackburn T, Bell D, Norcross M, Hudson J, Kimsey M: Sex comparison of hamstring structural and material properties. Clin Biomech .2009;24:65–70.
Arau jo CG. Flexibility assessment: normative values for flexitest from 5 to 91 years of age. Arquivos brasileiros de cardiologia. 2008 Apr;90(4):280-7.
NischalRatna Shakya, SajanManandhar .Prevalence of Hamstring muscle tightness among undergraduate physiotherapy students of Nepalusing Passive Knee
Extension Angle Test; Int J Sci Res Publ.2018;8(1):182-7.
Courture G,Karlik D,Glass SC,Hatzel BM.The effect of foam rolling duration on hamstring range of motion.The open orthopaedic journal.2015;9:450
Ballantyne F, Fryer G, McLaughlin P. The effect of muscle energy technique on hamstring extensibility: the mechanism of altered flexibility. Journal of osteopathic
medicine. 2003;6(2):59-60.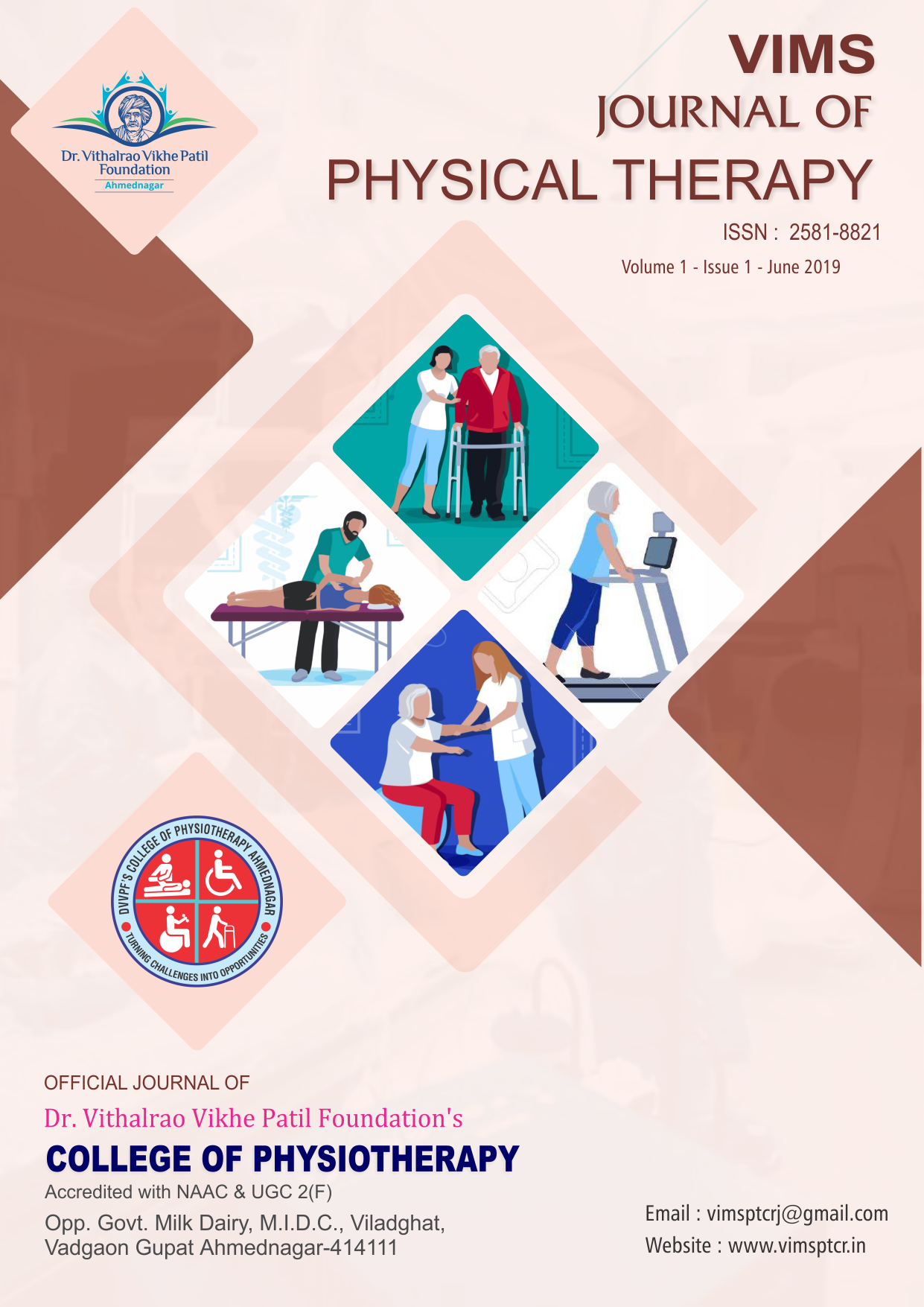 Downloads
How to Cite
Katariya, P. ., Anap, D., & Kuttan, V. (2020). IMMEDIATE EFFECT OF INSTRUMENT ASSISTED SOFT TISSUE MOBILIZATION ON HAMSTRING MUSCLE EXTENSIBILITY – PRE AND POST TEST DESIGN: Immediate effect of instrument assisted muscle release technique on hamstring extensibility . VIMS JOURNAL OF PHYSICAL THERAPY, 1(1), 49–54. Retrieved from https://vimsptcr.in/index.php/main/article/view/44
License
Copyright (c) 2020 Purva Katariya, Deepak Anap, Victoria Kuttan
This work is licensed under a Creative Commons Attribution-NonCommercial-ShareAlike 4.0 International License.