EFFECTIVENESS OF WORK HARDENING PROGRAM IN BANKERS HAVING WORK-RELATED CHRONIC NECK PAIN IN BANGALORE
WORK HARDENING PROGRAM IN BANKERS
Abstract
Background and Objectives:  Disorders caused due to working patterns or work related stresses are called occupational disorders.Work related neck disorders are common problems in office workers,especially among those who are intensive computer users.Banking occupation requires a lot of stereotyped movements of the arms, hands and fingers,and repetitive occupational tasks with short cycle times have become more and more frequent in modern technology as seen in this type of occupation with many of them associated with increased rates of chronic neck pain. Work place rehabilitation is necessary for work related to chronic neck pain in bankers.The objective of the study was to evaluate the effectiveness of the Work hardening program along with Conservative treatment versus Conservative treatment alone in bankers having Chronic neck pain.
Methods:60 bankers having Chronic neck pain were randomly allocated in two groups.Group A received Conservative treatment alone and Group B received a Work hardening program along with Conservative treatment.The outcome was assessed in terms of Neck Disability Scale (NDI) scores and Numeric Pain rating Scale (NPRS) scores pre intervention and post intervention.
Results:Both the interventions of conservative treatment and conservative treatment with a work hardening program were individually effective.But,the subjects treated with a conservative with work hardening program was significantly effective than conservative alone.
Interpretation and Conclusion:The present study concludes that both treatment protocols were effective in reducing Chronic neck pain.Further it was also noticed that Group B was more effective in improving neck disability and in reducing pain than Group A.Thus applying for the treatment protocol Work hardening program along with Conservative treatment was better than Conservative treatment applied alone.
Keywords:
Work related neck pain, Chronic neck pain, Bankers, Work hardening program, Conservative treatment, Occupational disorders.
References
Stanley M Maduagwi, Rebecca DW Majindadi, Kunaba I Duniya, et al. Prevalences and Patterns of Work-related Musculoskeletal Disorders among Bankers in Maiduguri, Northeast Nigeria. Occupational Medicine & Health Affairs.2014;2(3):2-6.
Punnett L, Wegman DH. Work-related musculoskeletal disorders: the epidemiologic evidence and the debate. J Electromyogr Kinesiol. 2004;14:13-23.
Prawit Janwantanakul, Praneet Pensri, Viroj Jiamjarasrangsri, et al. Prevalence of self-reported musculoskeletal symptoms among office workers. Occup Med. 2008;58(6):436-438.
P.A.Scott. The effect of a work-conditioning programme on manual labourers in South African Industry. International Journal of Industrial Ergonomic. 1999;24(3):253-259.
Julia M Hush, Zoe Michaleff, Christopher G., et al. Individual, Physical and Psychological risk factors for neck pain in Australian office workers: a 1-year longitudinal study. European Spine Journal. 2009:18(10):1532-1540.
Ariëns GAM, Bongers PM, Douwes M, et al. Are neck flexion, neck rotation and sitting at work risk factors for neck pain? Results of a prospective cohort study. Occup Environ Med. 2001:58:200–207.
Chiu TTW, Ku WY, Lee MH, et al. A study on the prevalence of and risk factors for neck pain among university academic staff in Hong Kong. J Occup Rehab. 2002: 12:77–91.
Kamwendo K, Linton SJ, Moritz U. Neck and shoulder disorders in medical secretaries. Part 1. Pain prevalence and risk factors. Scand J Rehabil Med .1991; 23:127–133.
Aker PD, Gross AR, Goldsmith H, et al. Conservative management of mechanical neck pain: systematic overview and meta-analysis. BMJ. 1996; 313:1291–1296.
Bongers PM, Ijmker S, et al. Epidemiology of work-related neck and upper limb problems: psychosocial and personal risk factors (Part I) and effective interventions from a bio behavioural perspective (Part II). J Occup Rehabil. 2006; 16:279–302.
Borghouts JA, Koes BW, Vondeling H .Cost-of-illness of neck pain in the Netherlands. Pain .1991;80:629–636.
Berbord BP. Musculoskeletal Disorders and Workplace Factors, 1997 Cincinnati, OHUS Department of Health and Human Services, National Institute of Occupational Safety and Health.
.Cagnie, L.Danneels, et al.Individual and work related risk factors for neck pain among office workers: a cross sectional study. European Spine Journal. 2007;16(5):679-686.
Brandt LPA, Andersen JH,et al. Neck and shoulder symptoms and disorders among Danish computer workers. Scandinavian Journal of Work; Environment and Health. 2004;30:399–409.
Jensen C. Development of neck and hand-wrist symptoms in relation to duration of computer use at work. Scandinavian Journal of Work, Environment and Health. 2003;29:197–205.
Sillanpau J, Huikko S, et al. Effect of work with visual display units on musculo-skeletal disorders in the office environment. Occup Med (Lond). 2003; 53:443-451.
Wahlstrom J. Ergonomics, musculoskeletal disorders and computer work. Occup Med (Lond). 2005; 55:168-176.
Turhan N, Akat C et al. Ergonomic risk factors for cumulative trauma disorders in VDU operators. Int J Occup Saf Ergon. 2008;14:417-422.
Mahmooda Naqvi, Maryam Zehra, Ghazala Noor Nizami. Association of prolong sitting with common musculoskeletal disorders among private and public sector bankers. Pakistan Journal of Rehabilitation. 2013; 2(2): 48-56.
Holloszy, E.F.Coyle. Adaptations of skeletal muscle to endurance exercise and their metabolic consequences. Journal of Applied Physiology. 1984; 56:831-838.
Jari Ylinen, Esa Pekka Takala, et al. Active Neck Muscle training in the treatment of Chronic neck pain in women. A randomized controlled trial. JAMA. 2003; 289(19): 2509-2516.
Ylinen Jari, Kautianiem, et al. Stretching exercises versus manual therapy in treatment of Chronic neck pain: A randomized controlled cross over trial. Journal of Rehabilitation Medicine. 2007; 39(2): 126-132.
Hakkinen, Arja, Salo, et al. Effect of manual therapy and stretching on neck muscle strength and mobility in Chronic neck pain. Journal of Rehabilitation Medicine. 2007;39(7): 575-579.
Thomas TW Chiu Christina WY Hui-Chan Gladys Cheing. A randomized clinical trial of TENS and exercises for patients with chronic neck pain. Clinical Rehabilitation. 2005;19(8):850-860.
Brewer CC, Storms BS. The final phase of rehabilitation: Work hardening. Orthopaedic Nursing. 1993;12(6):9-15.
Catharina Gustavsson, Lena von Koch. Applied Relaxation in the treatment of long-lasting neck pain: A randomized controlled pilot study. Journal of Rehabilitation Medicine. 2006;38: 100-107.
Murphy JL, Mckellar JD, et al. Cognitive Behavioural Therapy for Chronic pain among veterans. Therapist manual.
Sanjib Kumar Das, Suman Mukhopadhyay. Integrating ergonomics tools in physical therapy for musculoskeletal risk assessment and rehabilitation- A review. IJESR. 2014;2(10):2347-6532.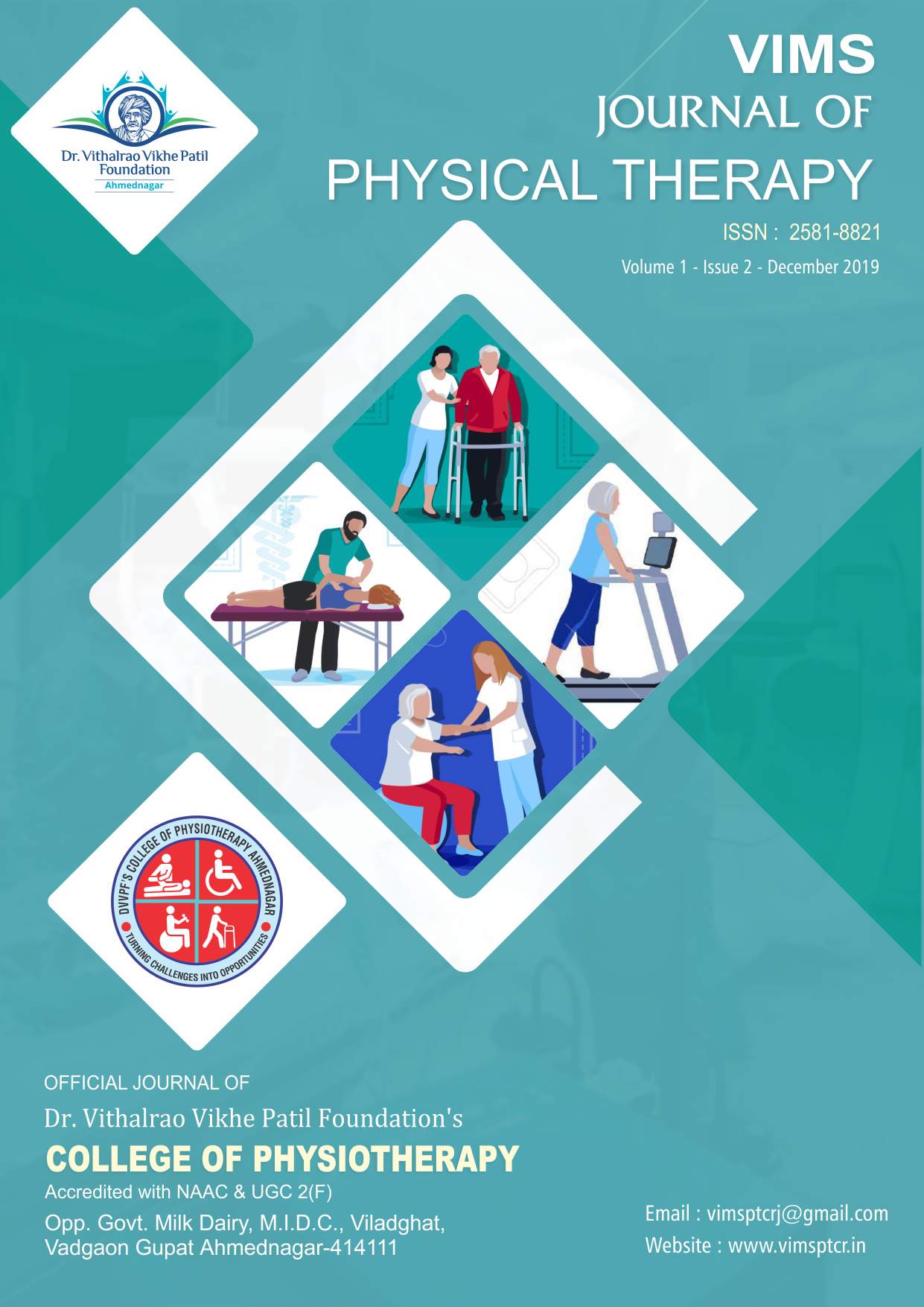 How to Cite
Chilakwad, N. N. ., & Rizvi, S. R. A. . (2019). EFFECTIVENESS OF WORK HARDENING PROGRAM IN BANKERS HAVING WORK-RELATED CHRONIC NECK PAIN IN BANGALORE : WORK HARDENING PROGRAM IN BANKERS . VIMS JOURNAL OF PHYSICAL THERAPY, 1(2), 79-85. Retrieved from https://vimsptcr.in/index.php/main/article/view/31
License
Copyright (c) 2019 Nisarga N. Chilakwad, Syed Rais A. Rizvi
This work is licensed under a Creative Commons Attribution-NonCommercial-ShareAlike 4.0 International License.