PHYSICAL THERAPY INTERVENTIONS IN 68 YEAR OLD MALE WITH TRANSFEMORAL AMPUTATION: A CASE REPORT
PHYSICAL THERAPY INTERVENTIONS IN TRANS-FEMORAL AMPUTATION
Abstract
Background: Peripheral vascular disease often goes unreported in the rural areas due to lack of health practitioners and illiterate inhabitants; with causative factors contributing of smoking and tobacco chewing among the rural sectors.  From the various reported symptoms of Peripheral vascular disease, the common is intermittent vascular claudication. If not treated at the right time, can lead to amputation at later stages. Amputation is a traumatic procedure, physically as well as emotionally. The role of physiotherapy becomes not only essential but of great importance to the rehabilitation and treatment of the patient. This justifies the importance of this article in correlating the treatment, post the trans-femoral amputation of an elderly male residing in a rural area.
Material & methods: A single case study approach was adopted (ABA design). The subject was a 68yrold male patient with transfemoral amputation. With other musculoskeletal changes taking place simultaneously, the goals were set to restore complete functional independence of the patient. Conclusion: By the end of the two weeks protocol, the patient could ambulate independently, was emotionally stable and was further motivated to continue exercises.
Keywords:
Elderly,Peripheral vascular disease, Transfemoral amputation, Physical therapy
References
SB O' Sullivan, TJ Schimitz G Fulk. Physical Rehabiliation 2013.
Leng GC, Fowkes FG. The Edinburgh Claudication Questionnaire: an improved version of the WHO/Rose Questionnaire for use in epidemiological surveys. J ClinEpidemiol. 1992 Oct;45(10):1101–1109.
William C Miller, Mark Speechley, A Barry Deathe Published. Balance Confidence Among People With Lower-Limb Amputations. Phys Ther. 2002 Sep;82(9):856-65
Alberto Esquenazi, MD & Rober DiGiacomo. Rehabilitation After Amputation. PT journal of the American Podiatric Medical Association. January 2001;91(1):13-22.
Chyong-Fang Chang, Chang-Cheng Chang, Mei-Yen Chen. Effect of Buerger's Exercises on Improving Peripheral Circulation: A Systematic Review Open Journal of Nursing. 2015,(5),120-128.
Phil Page, PT, PhD, ATC, CSCS, FACSM, Baton Rouge, Current concepts in muscle stretching for exercise and rehabilitation. Int J Sports PhysTher. 2012;7(1): 109–119.
Dade D Fletcher, MD Karen L. Andrews, MD Matthew A. Butters, MD Steven J. Jacobsen, MD, PhD Charles M. Rowland, et al., Rehabilitation of the geriatric vascular amputee patient: A population-based study. Archives of physical Rehabilitation& medicine. June 2001;82, (6): 776-779.
Price, E. Marion MBE; Fisher, Keren PhD, C Psychol. How does Counseling Help People with Amputation? JPO Journal of Prosthetics & Orthotics: September 2002;14(3):102-106.
Hamburg NM, Balady GJ. Exercise rehabilitation in peripheral artery disease: functional impact and mechanisms of benefits. Circulation. 2011 Jan 4;123(1):87-97.
Elmo Mannarino, M.D., F.I.C.A.,Leonella Pasqualini, M.D. Effects of Physical Training on Peripheral Vascular Disease: A Controlled Study, ANGIOLOGY. January 1989;40(1):5-10.
Mitchelle H.Cameron, MD. PT. Physical Agents in Rehabilitation: from research to Practice,4th edition.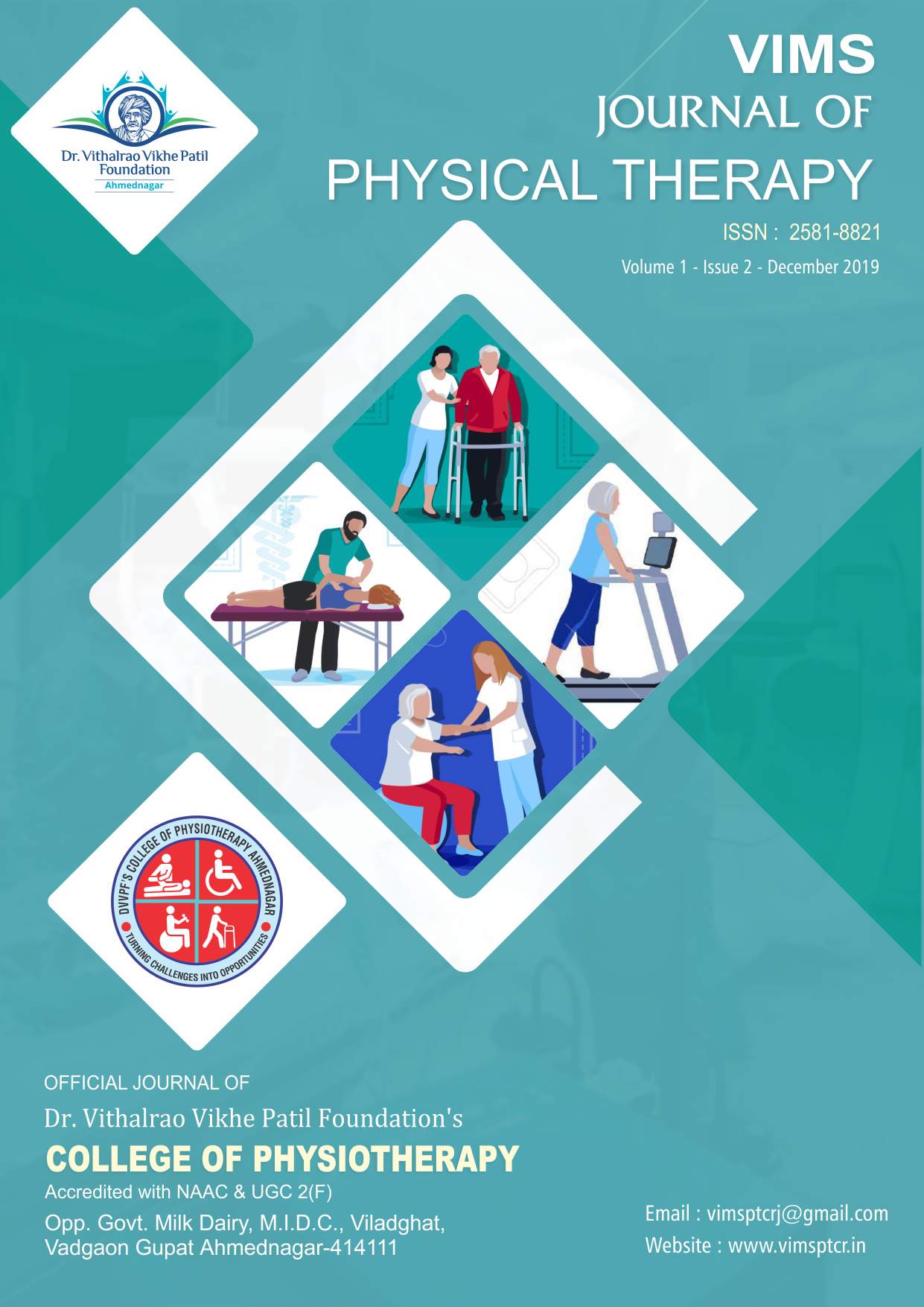 How to Cite
Gandhe, S. ., & Ganvir, S. (2019). PHYSICAL THERAPY INTERVENTIONS IN 68 YEAR OLD MALE WITH TRANSFEMORAL AMPUTATION: A CASE REPORT: PHYSICAL THERAPY INTERVENTIONS IN TRANS-FEMORAL AMPUTATION. VIMS JOURNAL OF PHYSICAL THERAPY, 1(2), 86-90. Retrieved from https://vimsptcr.in/index.php/main/article/view/28
License
Copyright (c) 2019 Shwetanjali Gandhe, Shyam Ganvir
This work is licensed under a Creative Commons Attribution-NonCommercial-ShareAlike 4.0 International License.