Sitting And Standing Balance Assessment Tools In Patients With Spinal Cord Injury: A Systematic Review
Abstract
Background: The effectiveness of interventions depend on utility of a specific common set of clinical tools that has ability to assess important clinical outcomes.
Objective: To identify clinical assessment tools for assessing unsupported sitting and standing balance in SCI population.
Methods: PubMed access provided articles with key words "spinal cord injury," and "balance assessment". Studies describing measurement of balance in subjects with SCI, were included.
Results: After thorough screening 9 articles showed : 3 clinical scales assessed sitting balance and seated postural control, 1 clinical scale assessed standing function, 4 scale assessed functional mobility, static and dynamic walking balance; one scale assessed risk of fall during walking and 3 sensor based tools were identified.
Conclusion: It was observed that majority studies showed assessment of standing and walking balance; and both clinical performance based and sensor based tools were used for balance assessment.
Key words: balance assessment, spinal cord injury.
References
Khurana M, Walia S, Noohu MM. Study on the effectiveness of virtual reality game-based training on balance and functional performance in individuals with paraplegia. Topics in spinal cord injury rehabilitation. 2017;23(3):263-70.
Lo J, Chan L, Flynn S. A systematic review of the incidence, prevalence, costs, and activity and work limitations of amputation, osteoarthritis, rheumatoid arthritis, back pain, multiple sclerosis, spinal cord injury, stroke, and traumatic
brain injury in the United States: a 2019 update. Archives of physical medicine and rehabilitation. 2021 Jan 1;102(1):115-31.
Popovic MR. Comparison of multidirectional seated postural stability between individuals with spinal cord injury and ablebodied individuals. J Rehabil Med. 2013;45:00-.
Abou L, de Freitas GR, Palandi J, Ilha J. Clinical instruments for measuring unsupported sitting balance in subjects with spinal cord injury: a systematic review. Topics in spinal cord injury rehabilitation. 2018;24(2):177-93
Ilha J, Abou L, Romanini F, Pai AC, Mochizuki L. Postural control and the influence of the extent of thigh support on dynamic sitting balance among individuals with thoracic spinal cord injury. Clinical Biomechanics. 2020 Mar 1;73:108-14.
Datta S, Lorenz DJ, Harkema SJ. Dynamic longitudinal evaluation of the utility of the Berg Balance Scale in individuals with motor incomplete spinal cord injury. Archives of physical medicine and rehabilitation. 2012 Sep 1;93(9):1565-73.
Christopher A, Kraft E, Olenick H, Kiesling R, Doty A. The reliability and validity of the Timed Up and Go as a clinical tool in individuals with and without disabilities across a lifespan: a systematic review: Psychometric properties of the Timed Up and Go. Disability and rehabilitation. 2021 Jun 19;43(13):1799-813.
Unger J, Chan K, Scovil CY, Craven BC, Mansfield A, Masani K, Musselman KE. Intensive balance training for adults with incomplete spinal cord injuries: protocol for an assessor-blinded randomized clinical trial. Physical Therapy. 2019 Apr 1;99(4):420-7.
Chan K, Unger J, Lee JW, Johnston G, Constand M, Masani K, Musselman KE. Quantifying balance control after spinal cord injury: Reliability and validity of the mini-BESTest. The Journal of Spinal Cord Medicine. 2019 Sep 30;42(sup1):141-8.
Chan K, Guy K, Shah G, Golla J, Flett HM, Williams J, Musselman KE. Retrospective assessment of the validity and use of the community balance and mobility scale among individuals with subacute spinal cord injury. Spinal Cord. 2017 Mar;55(3):294-9.
Shah G, Oates AR, Arora T, Lanovaz JL, Musselman KE. Measuring balance confidence after spinal cord injury: the reliability and validity of the Activities-specific Balance Confidence Scale. The journal of spinal cord medicine. 2017 Nov 2;40(6):768-76.
Wirz M, Müller R, Bastiaenen C. Falls in persons with spinal cord injury: validity and reliability of the Berg Balance Scale. Neurorehabilitation and neural repair. 2010 Jan;24(1):70-7.
Ludwig O. Interrelationship between postural balance and body posture in children and adolescents. J Phys Ther Sci. 2017 Jul;29(7):1154-1158.
Williams AMM, Chisholm AE, Lynn A, Malik RN, Eginyan G, Lam T. Arm crank ergometer "spin" training improves seated balance and aerobic capacity in people with spinal cord injury. Scand J Med Sci Sports. 2020 Feb;30(2):361-369.
Bergmann M, Zahharova A, Reinvee M, Asser T, Gapeyeva H, Vahtrik D. The effect of functional electrical stimulation and therapeutic exercises on trunk muscle tone and dynamic sitting balance in persons with chronic spinal cord injury: A crossover trial. Medicina. 2019 Sep 21;55(10):619.
Cashin AG, McAuley JH. Clinimetrics: Physiotherapy Evidence Database (PEDro) Scale. J Physiother. 2020 Jan;66(1):59.
Barthélemy D, Willerslev-Olsen M, Lundell H, Biering-Sørensen F, Nielsen JB. Assessment of transmission in specific descending pathways in relation to gait and balance following spinal cord injury. Progress in brain research. 2015 Jan 1;218:79-101.
Kapadia N, Masani K, Catharine Craven B, Giangregorio LM, Hitzig SL, Richards K, Popovic MR. A randomized trial of functional electrical stimulation for walking in incomplete spinal cord injury: effects on walking competency. The journal of spinal cord medicine. 2014 Sep 1;37(5):511-24.
Shin JC, Jeon HR, Kim D, Cho SI, Min WK, Lee JS, Oh DS, Yoo J. Effects on the Motor Function, Proprioception, Balance, and Gait Ability of the End-Effector Robot-Assisted Gait Training for Spinal Cord Injury Patients. Brain Sciences. 2021 Sep 28;11(10):1281.
In T, Jung K, Lee MG, Cho HY. Whole-body vibration improves ankle spasticity, balance, and walking ability in individuals with incomplete cervical spinal cord injury. NeuroRehabilitation. 2018 Jan 1;42(4):491-7.
Abou L, Rice LA. The associations of functional independence and quality of life with sitting balance and wheelchair skills among wheelchair users with spinal cord injury. The Journal of Spinal Cord Medicine. 2022 Apr 8:1-8.
Van Dijsseldonk RB, De Jong LA, Groen BE, Vos-Van Der Hulst M, Geurts AC, Keijsers NL. Gait stability training in a virtual environment improves gait and dynamic balance capacity in incomplete spinal cord injury patients. Frontiers in Neurology. 2018 Nov 20;9:963.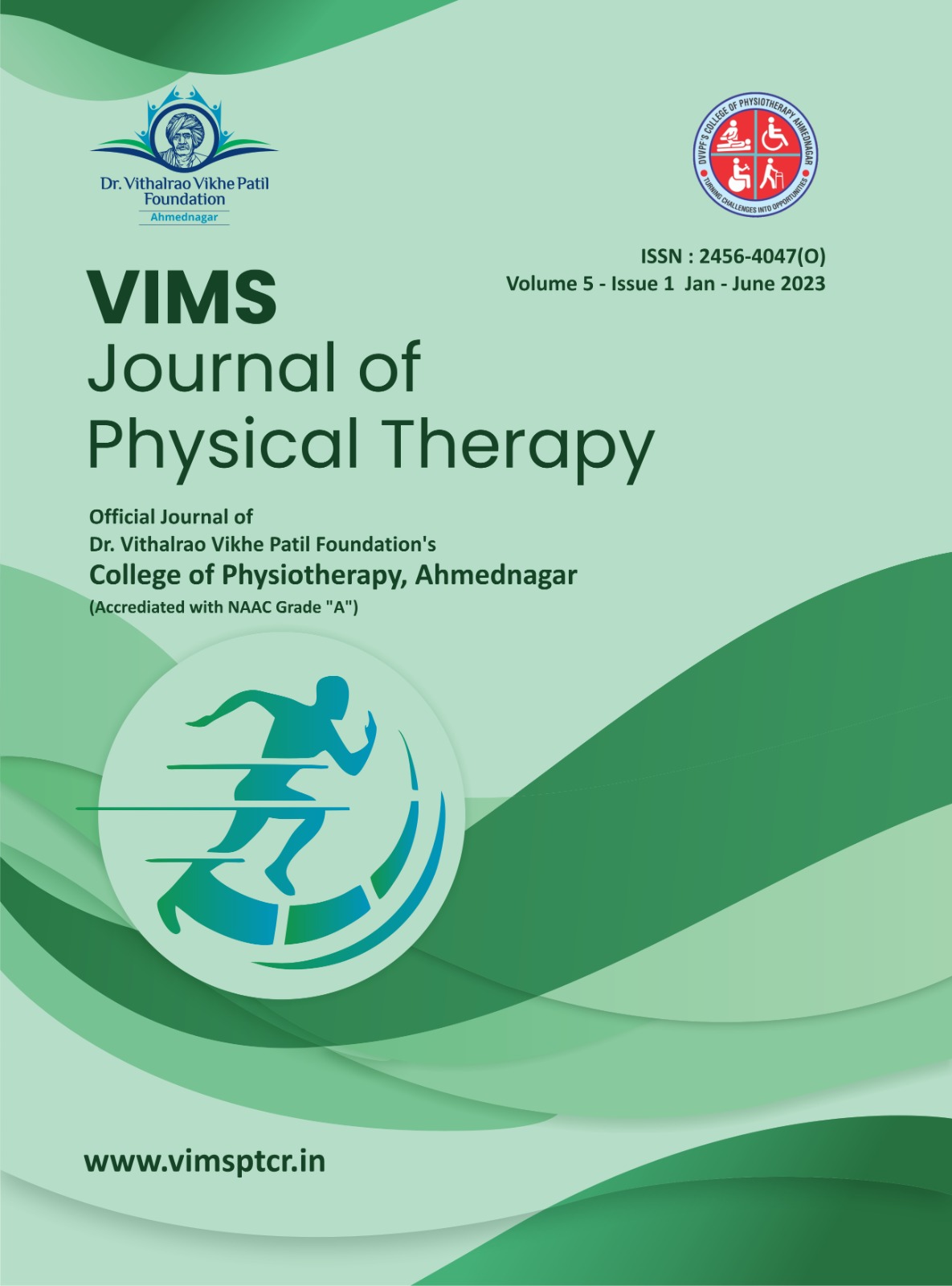 Downloads
How to Cite
Stuti N , G., Maheshwari A, H., & Suvarna (PhD), P. D. G. (2023). Sitting And Standing Balance Assessment Tools In Patients With Spinal Cord Injury: A Systematic Review. VIMS JOURNAL OF PHYSICAL THERAPY, 5(1), 20–27. https://doi.org/10.46858/VIMSJPT.5106
License
Copyright (c) 2023 Gaikwad Stuti N , Harishchandre Maheshwari A, Prof. Dr. Ganvir Suvarna (PhD)
This work is licensed under a Creative Commons Attribution-NonCommercial-ShareAlike 4.0 International License.